What Can I Do With a Master's in Art Education?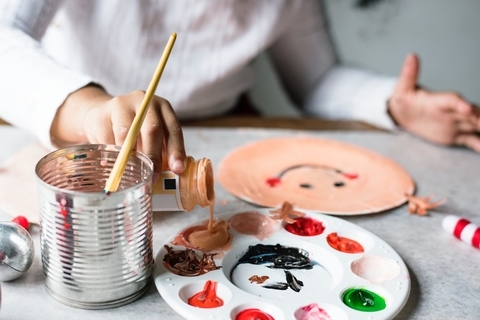 If you have creative experience, teach in schools, work in museums, or community art environments, and a passion for inspiring others, then a master's degree in art education might be the perfect path for you. Art educators possess a skill set that allows them to teach creativity through a>variety of art mediums in different settings, including formal and informal education environments. Whether or not you want to teach in a traditional setting, there are many career paths with a master's in art education, including positions in schools, galleries, museums, nonprofits, and communities. There are additional careers where a master's in art education merged with other disciplines is beneficial, such as arts and medicine, arts coordinator, teaching artist in residence, cultural educator, art and law, and many others.
Art educators provide important knowledge, creative skills, and service in a variety of settings. Let's take a look at some of the different roles available to those with an advanced degree in art education.
---
Master's in Art Education Careers
Primary and Secondary School Art Teacher
Becoming an art teacher in an elementary, middle, or high school is a natural fit for someone with a master's degree in art education. Art educators help students learn to foster creativity and understand the world around them by teaching a wide variety of skills, including art making, art history, art criticism, and cultural understanding.
Studies show that students benefit academically from art classes in a multitude of ways. Engaging in art encourages children to use their imagination and ask questions. Some research has also found that art has a positive impact on students' ability to develop social and emotional learning skills.
Art teachers develop curriculum in their schools, with a focus on success for all students. Some typical tasks art teachers engage in, include planning and delivering lessons, talking about art, and using a variety of materials like watercolors, oils, pencils, canvas and paper to make art while focusing on state or national art education standards. Being an art teacher is an occupation where the focus is helping students explore creativity as they learn.
| Position | Median annual salary | Job growth |
| --- | --- | --- |
| Kindergarten/elementary school teacher | $61,350 | 4% between 2021 and 2031 |
| Middle school teacher | $61,320 | 4% between 2021 and 2031 |
| High school teacher | $61,820 | 5% between 2021 and 2031 |
Source: U.S. Bureau of Labor and Statistics. Salary will vary depending on location, experience, education, and other factors.
Post-Secondary Art Professor
Post-secondary art professors are masters of their craft. In order to teach at a college or university, you must have a doctoral degree in art education, curriculum and instruction, or a related field. Some college-level art education jobs may be more focused on knowledge areas, such as pedagogical practice, community art, teaching art in schools, or technology in art to name a few. These academics may begin their journey with a master's in art education in order to showcase their aptitude and proficiency as a next step to earning a doctorate and teaching at the collegiate level.
According to the U.S. Bureau of Labor Statistics, the median salary of a postsecondary teacher is $79,640.
Artist-in-Residence
Have you ever dreamed of sculpting in Sienna, or painting in Prague? Artist-in-residency programs allow artists to work with specific organizations and in a variety of settings. These programs take place in museums, schools, nonprofit organizations, and even national parks. There are artist-in-residence opportunities worldwide, giving you the chance to hone your craft, see the world, and explore new locations and cultures.
The criteria for being selected varies as much as the opportunities themselves. Artist residencies can take place anywhere on Earth, including expeditions to the Arctic Circle, as well as a residency in the Moroccan Sahara.
Arts Administration
Becoming an arts administrator allows you to utilize your artistic ability, business expertise, and fundraising skills. Arts administration titles include arts education manager and director of development. These professionals work in settings like museums, theaters, galleries, symphony orchestras, and ballet companies.
Art administrators wear a lot of hats, with job responsibilities including everything from planning events and art education activities to fundraising and overseeing budgets. Some of the skills required to be a successful arts administrator are problem solving, good communication, curiosity, and self-motivation.
Arts administrators sometimes have opportunities to collaborate with each other and work with the larger art education community. In 2018, for example, over 10 art museums collaborated with local youth grade school programs and schools to feature exhibits of art work by children from across the United States. The exhibition, which was open from November 5, 2018 to January 2, 2019, was hosted at the U.S. Department of Education Headquarters in Washington D.C.
According to the U.S. Bureau of Labor and Statistics, archivists, curators, and museum workers are expected to have much faster than average job growth at 12% from 2021 to 2031, with a median salary of $50,120* in 2021.
*Salary will vary depending on location, experience, education, and other factors.
---
Master's in Art Education Courses and Curriculum Highlights
A master's degree in art education provides educators with the tools they need to be successful in a multitude of artistic professions. A comprehensive master's program will offer students a variety of scholastic opportunities, chances for networking, and a structured way to gain exposure to different artistic mediums and teaching strategies.
For example, the University of Florida's online M.A. in Art Education (MAAE) helps students build a network and support system with peers and faculty. One such networking opportunity is through the Residential Summer Studio, featuring immersive, hands-on courses that many students have described as being a transformative experience. The Summer Studio gives students a chance to focus on their art without distraction, and make connections with other creative educators.
Many art education graduate students also have the ability to engage in larger cultural and global opportunities. For example, a group of UF students took a cultural exchange trip to Guatemala, where they took part in a community-wide art experience. The students created alfombras (elaborate sawdust carpets) that were installed in the local history museum for two weeks and as part of an offering to a community procession.
---
Key Skills for Art Teachers
There are some skills that all art educators share — like pedagogical knowledge and understanding the art of teaching, as well as technical proficiency with a variety of artistic mediums and styles — and others that are more specific to the people with which they work. K-12 art teachers should possess many of the same skills as general education teachers like patience, adaptability, and leadership. Art educators who choose to work in a school should also enjoy working with children, teens, and young adults. In addition, an understanding of different theories behind curriculum design can help school art teachers build an engaging art education program for the large variety of students who may enter their classrooms.
For those who choose to work in settings like museums and nonprofit organizations, desired skill sets include an understanding of teaching strategies, and a willingness to work with diverse populations, and be a good communicator and collaborator.
---
How Long Does It Take to Earn a Masters in Art Education?
Art education master's programs can take anywhere from one year to several years to complete, depending on the length of the program and whether the student is taking courses on a part-time or full-time basis.
Programs like the University of Florida's online master's in art education program can be done entirely online and be completed within two years, giving students the ability to work while completing an art education master's degree. Some of the MAAE program features include a powerful virtual community, a leading-edge curriculum, and personalized learning opportunities.
---
Art Education Career and Teacher Licensing Requirements
For teacher licensure a bachelor's degree in education with a state-approved teacher preparation program is the basic requirement to teach in a public school. A master's in art education can help teachers enhance their ability to engage students and expand their pedagogical knowledge, personal growth, and artistic proficiencies. Please note that licensure is only offered at UF in the MAAE residential program.
K-12 teachers will also need to obtain a state license to teach, and the requirements vary by state. In Florida, K-12 teaching candidates must complete a state-approved teacher preparation program, as well as the required Florida Teacher Certification Examinations. Some states, including New York, require a master's degree for teaching K-12. While there are some general qualifications, teaching certificate requirements vary by state.
---
About the Online Master's in Art Education from the University of Florida
The University of Florida's online Master of Arts in Art Education (MAAE) program engages students purposefully in art education theory and practice, contemporary art, and their own studio work. Our dynamic online learning environment fosters meaningful interaction with peers and our world-class faculty as members of a supportive, close-knit community of art educators, artists, cultural workers, and scholars. This flexible program brings you the advanced concepts and immersive, hands-on experiences you need to flourish academically and creatively.
Request Information
To learn more about University of Florida's online Master of Arts in Art Education download a brochure, fill out the fields below or call us at (877) 360-1859 to talk with one of our enrollment advisors.
*
All Fields are Required. Your Privacy is Protected.
The University of Florida respects your right to privacy. By submitting this form, you consent to receive emails and calls from a representative of the University of Florida, which may include the use of automated technology. Consent is needed to contact you, but is not a requirement to register or enroll.
Are you enrolling from outside the U.S.? Click here.