Master's in Education vs Master's in Art Education: What's the Difference?
Teachers and other education professionals pursue Master of Arts in Education (MAE) or Master of Arts in Art Education (MAAE) degrees for a variety of reasons and with a wide range of career goals. While these degrees can cover similar material related to pedagogical practice, it's important to consider your specific objectives when choosing which path to pursue.
For example, do you want to explore a range of core content areas, education theory, or general models of curriculum building? An MAE program will provide foundational knowledge across a broad range of disciplines and explore additional topics that may be beneficial for advancement in a formal education setting, such as school administration.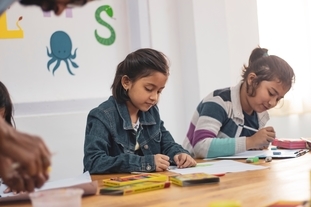 However, if your interest is more focused on enhancing your teaching and student engagement skills and pedagogical knowledge in visual art, an MAAE program will have coursework more tailored for these goals. The blend of arts and art education knowledge you can develop in an MAAE program also makes this option ideal if you're looking for coursework that is inclusive of a variety of formal and informal learning settings, including schools, museums and art galleries.
Completing a master's program also gives you the opportunity to develop professional connections that can open new opportunities and provide exposure to different content areas and stake holders in education whether schools, communities, or informal places of learning, making it more important to consider your path carefully — networking within the right field will inspire inquiry and build on your passions for the field working in.
Read below to learn more about the differences between a Master of Arts in Education and an Master of Arts in Art Education.
---
How are these degrees different?
M.A. in Education (MAE) programs offer a broad curriculum that covers topics ranging from educational technology to reading and literacy and focus on traditional classroom content areas. Many MAE programs also allow students to choose a specialization, so they can concentrate in a specific core (Reading, Writing, Math, History, etc.) area.
On the other hand, a Master of Arts in Art Education programs more readily focus on pedagogical practice, curriculum design, instruction and other issues related specifically to visual art education and arts integration. For example, an M.A. in Art Education program will likely have curriculum courses specific to visual art and pedagogical methods, theories in teaching in the visual arts, and the unique perspectives in teaching visual art education in a variety of learning contexts. An MAAE program is unique in that it also offers coursework to develop ones own visual art studio practice as a standard to teach others, making this degree ideal for professionals who want to continue refining their own artistic talent and skill, as well as grow in their teaching practice whether in the classroom, museum, or visual arts programming in community organizations.
---
Master of Arts in Education vs. Master of Arts in Art Education Summary
M.A. in Education
M.A. in Art Education

Broad scope with options to specialize in different areas

More specialized scope, designed to enhance visual art teaching and program design skills

Courses in education technology and curriculum design

Combination of dedicated art study with education training

Practical experience with education media and instruction design
School focused only

Builds tools for research and evaluation
School, museums, community focused
---
What will I learn in an MAAE program?
A master's degree in Art Education prepares graduates for a variety of careers, in which they can enhance their own style of teaching, integrate art into formal or informal education settings and better support learning through creativity.
As with all graduate programs, one of the main benefits of attending is building a network and support system of like-minded professionals. For example, students in the University of Florida's M.A. in Art Education (MAAE) program have the option to participate in residential summer studio courses that help build one's individual studio practice and foster collaboration and connections with others in the field of Art Education, including other students (some pre-, new, or in-service teachers in public schools), faculty, and other professionals related to the field such as those who educate in museums, arts and medicine and broader areas in the visual arts.
Throughout this program, all students complete a core set of classes that enable them to become proficient in art education pedagogy specifically relating to teaching through a creative lens. In addition, students are given the opportunity to build upon their own passions through dedicated studio development and a capstone requirement.
The capstone project is a chance for students to display their individual strengths and research interests. Examples of common courses in a Master of Arts in Art Education program include
---
What can I do with a Master of Arts in Art Education?
There is a wide range of art and teaching careers that you can pursue with a master's degree in Art Education. From teaching to healthcare to non-profits and community driven organizations, an MAAE prepares professionals to bring creativity, innovation and connection to their careers. Teachers and non-educators alike may pursue this degree in order to cultivate artistic engagement, art teaching skills, or visual art programming and activism.
M. A. Art Education graduates will also leverage their practical art training and expertise in education to enhance engagement with the public or explore other innovative initiatives, such as arts and well being, pop up museums, or visual art education in the non-profit sector. For example, studies have found that mental health recovery can be aided by art, and that the inclusion of art classes in the routines of patients recovering from addiction, or living with chronic illness can improve both quality of life and fine motor skills.
Related Content: Careers with an MA in Art Education
Teaching Art at School
There is ample opportunity to teach art at all levels of schooling, from elementary to postsecondary education. Many art teachers also leverage their skillset outside of the classroom. For example, PayScale shows that graphic design and nonprofit program director are common paths for professionals who teach art.
Salaries for art teachers are dependent on experience. Although early-career art teachers earn an average salary of $36k, this increases to $49k among those who have at least 10 years of experience.
While art teachers have a lot of responsibilities that are mandated by their district's directives, many teachers have found innovative ways to go beyond the standard curriculum and push their students further. For example, many art teachers have created websites or blogs where their students can showcase their work to a much larger audience. Initiatives like Liam Smith's Photography Project also provide advice for photography students, such as the top 5 camera hacks that actually work.
Teaching Art in Non-Traditional Places
As we've previously explored, there is a push toward unconventional art teaching careers, where hospitals can use art to engage the public and improve quality of care. In addition to finding roles like these in nonprofits that partner with healthcare providers, art education professionals can look for opportunities within hospitals that are building art programs as well as schools that partner with nonprofits and other organizations.
For example, many school districts, including Chicago and Manhattan Beach offer home and hospital teaching programs, which are designed to bring education to students who can't attend school.
Some healthcare organizations, such as the Rady Children's Hospital in San Diego, have developed art programs that are fully integrated into their treatment. Rady uses music and invites artists as well as art educators to create a positive atmosphere for children who are recovering from an illness or from surgery.
Nonprofit Program Director
The same skills that make an excellent art teacher, such as the ability to inspire creativity in others, are also well-suited for work in the nonprofit sector, where engaging audiences and creating evangelists is critical to advocating for the organization's mission. In addition to the creative side of this role, there is an analytical element to successfully directing programs, as these professionals must ensure that their organizations keep accurate records. For some nonprofits, they may also have strategic direction over research and outreach activities.
As PayScale shows, the median salary for this role is $54k, though there is a considerable salary range with the top 10% of nonprofit program directors earning $84k.
---
What can I do with a Master's in Education?
A master's degree in education opens up career options for educators and administrators alike. It can also allow students who are not currently teachers to gain important foundational training while developing an understanding of high-level concepts that support the development of the educational system.
Geography plays an important role in earning potential. According to PayScale, for example, average Master of Arts in Education salaries in New York are $76,473 on the higher end, but this increases to $88,378 in Chicago.
A master's in education can be a great option for those who know that they want to be involved in education in a broad sense, whether it be administration, research or teaching, while the Master of Arts in Art Education is an excellent choice for those who know that they want to teach and work with art specifically.
---
Careers with an M.A. in Education
Principal
While it may first seem like the principal's job revolves solely around administrative and management duties, like hiring teachers and monitoring staff, they can also influence the culture of their schools. For example, they may be responsible for providing opportunities for the teachers to develop professionally and personally. They can also implement initiatives to encourage acceptance, hospitality and safety, as well as shaping the school's overall image of academic success.
A key part of the principal's job is creating relationships with their teachers, parents and students. As one of the leading administrators, this understanding between principals and the educational community that they are ultimately serving is imperative.
Instructional Designer
Instructional design is the process through which learning products and experiences are designed and improved. This can be anything from online courses, manuals to various types of tutorials and learning systems. Instructional design may also be referred to as instructional technology, learning experience design or curriculum design.
Instructional designers focus on communicating theories effectively in a way that is easily digestible and able to be learned by their target audience. They may be hired for developing specific online curriculums, or by companies that wish to improve the training process for new or developing employees. By applying research and design theories to the subject at hand, instructional designers create curriculums and programs that fit the environments the environments that they are applied to.
Educational Media Specialist
Libraries, museums, and businesses all have use of media specialists. A media specialist is responsible for the audio-visual components and other equipment that is used in these settings.
Educational media specialists work with multimedia equipment in classrooms, keep records of electronic equipment and digitally stored resources. This role requires a diverse skill set that encompasses both technical knowledge and teaching, since media specialists are often responsible for not only the initial setup and maintenance of computer and media labs but instructing new users and helping students find the resources they need. Educational media specialists are also versed in how to incorporate media into classroom learning situations.
---
Aligning Your Education with Your Career Goals
The education field needs professionals with a variety of skills, not only to help run schools and specific programs, but to make sure that the education they offer continues to develop as our world becomes globally interconnected and technology-dependent. Both educators and administrators can generate interest and help secure funding for educational programs that foster connection between students, encourage learning and understanding across the world.
Graduating with either a Master of Arts in Art Education, or a Master of Arts in Education equips students with the tools they need to build fulfilling careers that make a huge impact for many students and even the general public. However, graduates of an MA in Art Education program will have more opportunities to refine their personal artistic style as well as additional training with how to incorporate art into a wide variety of settings, both in and out of the classroom.
At a museum such as SPYSCAPE, for example, these skills expand to the entire facility. SPYSCAPE is designed around not just imparting information to visitors, but actively engaging them and bringing them in to the middle of the world of spies and espionage. With the help of curators who can combine artistic vision and business acumen, SPYSCAPE actively informs people about the history of complex subjects like spying as well as the nature of modern espionage.
A master's degree in art education helps graduates elevate their creativity, both within their personal artistic projects and within their teaching. The variety of teaching methods and tools, combined with additional studio experience, can offer graduates of MAAE programs the ability to bring their analytical skills, historical knowledge and artistic talent together to engage, educate and inform.
About the Online Master's in Art Education from the University of Florida
The University of Florida's online Master of Arts in Art Education (MAAE) program engages students purposefully in art education theory and practice, contemporary art, and their own studio work. Our dynamic online learning environment fosters meaningful interaction with peers and our world-class faculty as members of a supportive, close-knit community of art educators, artists, cultural workers, and scholars. This flexible program brings you the advanced concepts and immersive, hands-on experiences you need to flourish academically and creatively.
Request Information
To learn more about University of Florida's online Master of Arts in Art Education download a brochure, fill out the fields below or call us at (877) 360-1859 to talk with one of our enrollment advisors.
*
All Fields are Required. Your Privacy is Protected.
The University of Florida respects your right to privacy. By submitting this form, you consent to receive emails and calls from a representative of the University of Florida, which may include the use of automated technology. Consent is needed to contact you, but is not a requirement to register or enroll.
Are you enrolling from outside the U.S.? Click here.