Careers in Art Education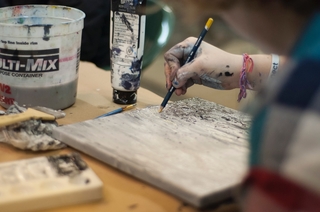 In today's diverse landscape of learning and working, artistic projects and arts-integrated education support creative engagement, collaboration and increased ability to learn across many subjects. As a result of the broadly applicable skills that learning art can instill, master's-level art education programs can help you transform your own creativity as well as your ability to inspire others.
As the world of art constantly evolves, the careers and skills for effective art educators also change, so we wanted to look at both the traditional roles for art educators and some of the new developments that impact how they can inspire their students or other audiences.
---
Why get a master's in art education?
One of the biggest is getting to meet and work with other people in your field. As professionals beginning or advancing their art education careers, students in art education master's programs often gain as much from the courses as they do from interactions with each other. By working with and around professionals from diverse backgrounds and artistic talents, educators can expand their understanding of how others experience and teach art in a variety of contexts.
At the same time, formal coursework offers an opportunity to focus on curriculum development, art criticism, interdisciplinarity, and studio skills, as well as other technical knowledge.
---
What will I learn getting a master's in art education?
Some of the common areas of focus for a master's in art education programs are in curriculum theory, contemporary issues in art education, arts integration, and advanced studio work. Online degrees often allow for a mixture of on-campus and remote learning, giving students both flexibility to earn their degrees on their own schedules and the opportunity to develop hands-on skills. For example, students in the University of Florida's MA in Art Education (MAAE) program have the option to participate in residential summer studio courses. On-campus experiences like these allow online students to network with each other and with faculty and transform their artistic skills together as well as create a network of support.
While some students may want to pursue a career as a teacher, the capstone requirement for the MAAE is an opportunity for students to investigate and showcase their individual strengths and areas of interest. These can vary from curriculum design, community arts, arts integration with other disciplines as well as non-profit and charity work. Arts education can be explored as a stand alone discipline or as a discipline that fuses different disciplines through pedagogical practice.
With core courses, electives and a capstone, students can become highly proficient in the key frameworks foundational to art education while building on their own passions and interests, from local to global perspectives and their ability to elevate creativity wherever they find themselves, in the K-12 classroom, community endeavors or areas not traditionally associated with art education.
---
What can I do with a master's in art education?
Art education careers can vary widely, from teaching different grade levels, to museum, curation to arts administration, and other non-profit work. The positions below offer an overview of the variety of work you can do with an art education master's degree.
---
Art Education Salaries
The below table shows the median salaries for teachers, education curators and other art education careers overall. However, it's important to note that teaching salaries can vary significantly by state. According to 24/7 Wall Street and U.S. Labor Department data, the top five states for teacher salaries in 2018 were New York, Connecticut, California, Alaska and Massachusetts.
| Position | Median Annual Salary | Median Annual Salary |
| --- | --- | --- |
| High School Level Art Educator | $59,170 | 8% between 2016 and 2026 |
| College Level Art Educator | $66,930 | 8% between 2014 and 2024 |
| Art Education Coordinator | $92,500 | 5% between 2016 and 2026 |
| Art Director | $92,500 | 5% between 2016 and 2026 |
| Museum Curator | $47,360 | 13% between 2016 and 2026 |
Source: U.S. Bureau of Labor Statistics
---
Art Teacher Careers
Art education careers in both high school and college teaching environments are projected to have an above average growth rate over the next few years. In addition to job growth, teaching art can be uniquely fulfilling, as art can play a pivotal role in developing broadly applicable creative skills.
Elementary and high school art educators have an opportunity to teach students how to incorporate artistic creativity into their work and throughout their lives, an especially important skill in the information age where creating engagement is a premium skill—both for learning and for communicating. Learning art can also help students find new ways of looking at the world around them and become better communicators.
Art Education Careers in Museums
Other areas where you will find art education careers are in museums, libraries, and non-profit organizations. Museums are prime locations for art educators to apply their knowledge; they can inform and engage other people in culture they might not have ever experienced otherwise. In museums, you will find positions like museum curator or education coordinator. Additionally, art education roles in museums may include curating collections or specific exhibits and developing informative material about artists, artistic styles and historic time periods in art.
Art Education Careers in Healthcare and Non-Profits
Some non-profit organizations focus on promoting the use of art and the ability to discuss and create artwork. Specific positions within these organizations vary widely and include professional artists, as well as administrative roles, such as after school program coordinator or advisor.
Many non-profit programs focus on bringing art to specific audiences or settings, such as hospitals, hospices and Veteran services. Art education careers in these organizations may include training and coordinating how to effectively implement these programs or even directly working with patients. The benefits of these initiatives are still being researched, but studies have already found that training medical staff in critical assessment of art can enhance their ability to evaluate their own responses to a situation or patient. For this reason, MA in Art Education graduates may find work training nurses or staff in analysis and critical thinking.
For example, artists in residence and teaching artists with Snow City Arts focus on bringing art and art education to patients at Lurie Children's Hospital. They work directly with patients to not only bring positivity into the hospital, but to help provide education that aids in neurological and mental health, and the development of fine motor skills.
Other Art Education Careers
Moving outside of the directly educational fields, master's degrees in art education can lead to positions in galleries, arts administration, and even theatre. In arts administration, professionals combine a love of the arts with fundraising skills and business knowledge. From art galleries and ballet companies to theatres and museums, these organizations must be able to function with a combination of artistic vision and business acumen.
This is especially important as arts and technology converge, such as at the Mori Building Digital Art Museum: teamLab Borderless in Tokyo, which opened in June of 2018. Its focus on digital and immersive art makes it both unique and representative of a continuing trend to make galleries and museums more than just places to look passively at exhibits, but rather somewhere to actively engage with the subject matter.
About the Online Master's in Art Education from the University of Florida
The University of Florida's online Master of Arts in Art Education (MAAE) program engages students purposefully in art education theory and practice, contemporary art, and their own studio work. Our dynamic online learning environment fosters meaningful interaction with peers and our world-class faculty as members of a supportive, close-knit community of art educators, artists, cultural workers, and scholars. This flexible program brings you the advanced concepts and immersive, hands-on experiences you need to flourish academically and creatively.
Request Information
To learn more about University of Florida's online Master of Arts in Art Education download a brochure, fill out the fields below or call us at (877) 360-1859 to talk with one of our enrollment advisors.
*
All Fields are Required. Your Privacy is Protected.
The University of Florida respects your right to privacy. By submitting this form, you consent to receive emails and calls from a representative of the University of Florida, which may include the use of automated technology. Consent is needed to contact you, but is not a requirement to register or enroll.
Are you enrolling from outside the U.S.? Click here.