UF Alumnus Brings Art Education to a Juvenile Detention Center
William Morris, a leading voice in Victorian England's Arts and Crafts movement, famously declared, "You can't have art without resistance in the materials." This sentiment rings true for Dougie Smith, a graduate from the University of Florida's online Master of Arts in Art Education (MAAE) who teaches at a juvenile detention center in Syracuse, New York. Dougie makes the best of challenging conditions on a daily basis, helping his students take a step back from their problems and discover the value of creativity.
Dougie knows first-hand how powerful art education can be in the lives of young people. He talked with us about his path to becoming a teacher, what motivated him to pursue a graduate degree, the experience of taking courses online, and how he applies what he learned at UF in his own classroom.
---
The Writing on the Wall
Dougie's earliest exposure to visual art came from his mother. She held a bachelor's in art and shared the work of great painters like Van Gogh. Yet, what really fired Dougie's imagination was the graffiti he saw while growing up in Syracuse. He became fascinated with elaborate lettering and calligraphy, filling notebooks with his efforts to imitate the examples he spotted around town.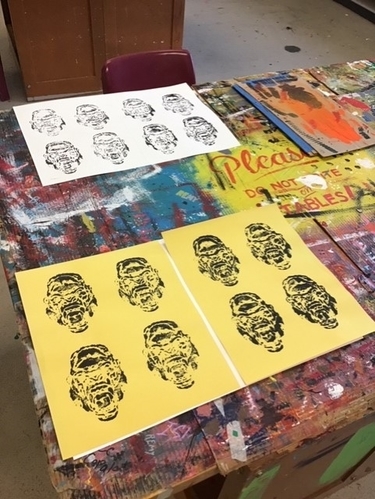 His passion for art wove into his college experience at the State University of New York at Cortland. While working toward his degree in teaching Spanish to adolescents, two fateful opportunities arose: First, he secured a summer maintenance job at the local detention center in Syracuse. Then, he spent a year studying abroad in Puerto Rico.
"That art scene was kind of an epiphany for me because it was a different perspective on art and how graffiti gets viewed," he explained. "I came out of my shell more and took a lot of art courses."
Dougie came home and resumed his maintenance job, finished his bachelor's coursework, and became a student teacher. For a few months, he switched roles to become a detention home aide, responsible for monitoring residents' behavior and enforcing the center's rules. But soon there was an opening on the teaching staff, and he was able to start offering Spanish classes.
After the facility's art teacher left, Dougie was asked to pull double duty by filling in temporarily while continuing to teach Spanish. This was his chance to take on a role that he was truly passionate about. He succinctly summed up what makes his work so appealing:
"I get to do art and help kids," he said.
---
Developing the Skills to Make a Difference
With a year of teaching art under his belt, Dougie felt certain that he'd found the right career. Since New York State requires teachers to complete a master's within five years after graduating with their bachelor's, a graduate program was his next step toward making the role permanent. Attending an online information session convinced him to apply to the University of Florida's online Master of Arts in Art Education.
Though Dougie had not earned a bachelor's in an art-related field, UF admitted him based on a holistic review of his application and undergraduate transcripts. He wasn't sure what it would be like to earn a master's entirely online, especially in a hands-on discipline like art education, but he saw that the program was well-organized and effectively leveraged technology to form meaningful connections among students and their instructors.
Dougie was especially excited when his courses went beyond exploring everyday teaching strategies and broadened his artistic horizons. He built cardboard installations in a park as a project for his sculpture class and discovered an interest in printmaking. He had the freedom to absorb lectures and create on his own time, but he also appreciated the ability to share his creations with professors and peers through discussion boards and video conferencing.
"I didn't feel like I was doing work, honestly," Dougie said. "It felt more like enjoyment."
For his capstone project, Dougie gathered observations of the students in his own classroom. He compiled field notes and sketched line drawings to reveal insights into the complex problems involved in educating residents of a detention facility. His project emphasized the importance of classroom management, noting the imperative to get to know a student population, engage them, and create a supportive environment.
"You can find articles on art programs in juvenile detention, but there's not a ton of research," he explained. "One of my hopes was to add to that community and try to help other teachers."
With the support of his advisors, Dr. Heidi Powell and Patrick Grigsby, Dougie completed his capstone and was able to finish his master's in two years while continuing to teach. His first time setting foot on the UF campus in Gainesville was when he chose to travel down the coast for his graduation ceremony.
---
Making an Impact on the Front Lines of Education
When lesson planning, Dougie combines his unique viewpoint with ideas borrowed from the MAAE curriculum. For example, he directly adapted a unit on African American women artists from a course taught by Dr. Powell. He brought the same rollers that he built in his printmaking class with Grigsby into the detention center. And he's applied what he learned about sculpture to guide his students through making football helmets and Captain America shields.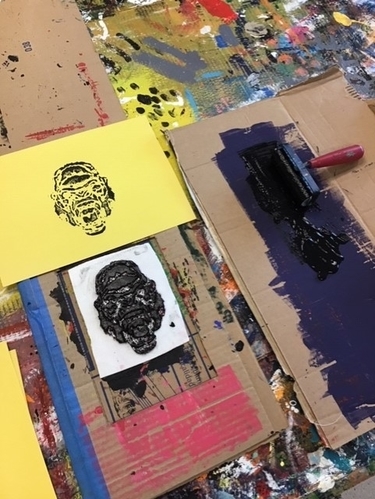 However, when it comes to capturing the attention of detention center residents who initially have little interest in more traditional lessons, Dougie reaches farther back into his past.
"I haven't found a kid who hasn't liked graffiti," he said. "It's the hook that gets them, and then I turn it into a lesson."
For teachers like Dougie, it's vital to relate to individuals who have been through harrowing experiences at a young age. At the same time, he must adapt his classes to limitations like not being allowed to bring full-size scissors into the building. One of the biggest challenges is simply never knowing who to expect in the classroom at a facility where the average stay is about a month.
"The population is ever-changing," he said. "You have kids who haven't been to school in a long time in a lot of cases, so you have to use that limited time to make an impression."
Even when COVID-19 restrictions kept teachers from visiting the detention center in person for several months, Dougie was able to continue giving lessons via Zoom. The pedagogical tools he gained from the online MAAE gave him the confidence to adapt to a difficult teaching situation and use technology to lead his students in printmaking projects.
Dougie also encourages his students to stay creative when they return to home environments where they face serious problems like gang violence. One of his biggest concerns is that many former detention center residents may not have the care they need after release. He hopes that in the future he can provide young people in his community with more chances to participate in art projects, similar to the experiences he had participating in programs at the Boys & Girls Club as a kid.
The UF College of the Arts strives to instill a focus on social engagement and individualized mentorship that can make a difference in the lives of at-risk young people. As the MAAE program director, Dr. Powell was impressed to observe how Dougie applied the concepts and the philosophy that he learned.
"Dougie exemplifies all we try to do in our program by creating ways of learning that transcend situation," she said. "His work demonstrates how art education impacts the front line of vulnerable learners and the power of pedagogy in alternative learning spaces."
---
About the Online Master's in Art Education From the University of Florida
The University of Florida's online Master of Arts in Art Education (MAAE) program engages students purposefully in art education theory and practice, contemporary art, and their own studio work. Our dynamic online learning environment fosters meaningful interaction with peers and our world-class faculty as members of a supportive, close-knit community of art educators, artists, cultural workers, and scholars. This flexible program brings you the advanced concepts and immersive, hands-on experiences you need to flourish academically and creatively.
Request Information
To learn more about University of Florida's online Master of Arts in Art Education download a brochure, fill out the fields below or call us at (877) 360-1859 to talk with one of our enrollment advisors.
*
All Fields are Required. Your Privacy is Protected.
The University of Florida respects your right to privacy. By submitting this form, you consent to receive emails and calls from a representative of the University of Florida, which may include the use of automated technology. Consent is needed to contact you, but is not a requirement to register or enroll.
Are you enrolling from outside the U.S.? Click here.